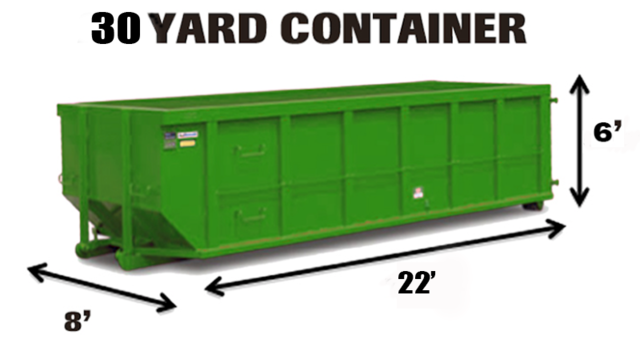 Days: Up to 7 Days
Rent Time Extension: $25/day
Ton(s): 4 Tons Included
Extra Weight: $100/ton
Description
Delivery fee may be applied based on the desination city. Add to cart or call for delivery fee.
Dimensions:

- 24' long

- 8' wide

- 6' tall

- 30 cubic yardsApproximately 16 pickup truck loads of debris
- Required swap out every 14 days.Â
Â
If you are looking for smaller products, please see our 10 Yard Dumpster and 15 Yard Dumpsters.
Â
Items We Can Remove For A Extra Fee
$0Â Â Â Â Mattresses (Now included for free)
$20 Â Â Tires off Rim (Must Be Told Up Front and Must be left Outside Dumpster)Â
$0Â Â Â Â Appliances (Now included for free)
$40 Â Â TV of any type (Must Be Told Up Front and Must be left Outside Dumpster)Â
Â
Items WE CAN NOT Remove
paint, chemicals, solvents

oils, oil drums

gasoline

asbestos

propane tanks

anti-freeze

fluorescent tubes

5
6