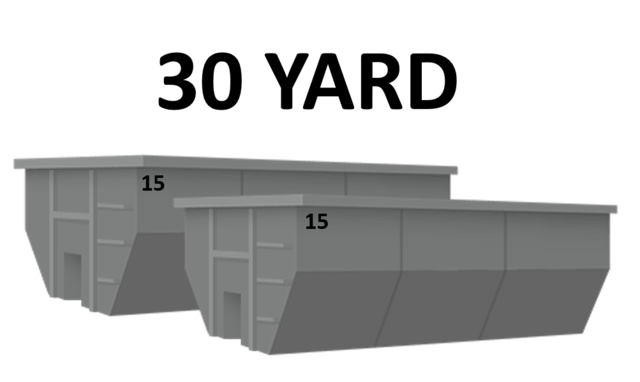 Description
$600 1-7 Day Rental 4 tons of material
$25 Per Additional Day *based on availability
$80 Per Additional ton
Delivery fee may be applied based on the desination city. Add to cart or call for delivery fee.
5 Star will deliver (2) of our 15 yard dumpsters to make up your 30 yard. The two dumpsters can be placed togeather or seperated on the property. They may also be placed one at a time to keep down on space. This is especially nice if working in a large area. Dumpster rental is for 7 day period.
30 yard dumpster rental is ONLY AVAILABLE IN RUTHERFORD COUNTY
Dimensions:

- 16' long

- 8' wide

- 6' tall

- 30 cubic yardsApproximately 16 pickup truck loads of debris
If you are looking for smaller products, please see our 10 Yard Dumpster and 15 Yard Dumpsters.
Items We Can Remove For A Extra Fee
$0 Mattresses (Now included for free)
$20 Tires off Rim (Must Be Told Up Front and Must be left Outside Dumpster)
$50 Appliances (Must Be Told Up Front and Must be left Outside Dumpster)
$40 TV of any type (Must Be Told Up Front and Must be left Outside Dumpster)
Items WE CAN NOT Remove
paint, chemicals, solvents

oils, oil drums

gasoline

asbestos

propane tanks

anti-freeze

fluorescent tubes